By Curtis Suthard – 7/72017
The Rope Break #9:
WWE Great Balls of Fire Predictions
Alright, time to make up for the horrible job that I did on my Money in the Bank predictions. I only got one, single match right last time! So, let's see if I can't do a bit better this time around! Looks like a decent card, with a few repeat matches. One in particular that I am just about tired of. But, enough stalling. Let's dive right in and set these Balls on Fire!
Akira Tozawa VS. Neville (Cruiserweight Championship):  Pre-show match to kick things off. And, what a good one! Quite frankly this match deserves to be on the main card. Maybe bumping the I.C. title match down to the Pre-show. This one deserves a bit more time and/or attention. Tozawa is great and in the vein of full disclosure; I love the guy. I've been a fan of Tozawa well before the Cruiserweight Classic and his current run in WWE's version of purgatory, 205 Live. The guy is a real talent and a thrill to watch. I'm even sort of digging the current storyline with the whole Titus Brand thing. Not to beat a dead horse here, but I desperately want some of the Cruiserweights to maybe make the jump and crossover with the main roster a bit more. Team Tozawa and Apollo Crews up as the two top representatives of the Titus Brand. That is, once Apollo wakes up from his near-death experience with Braun Strowman from this past Monday!
Unfortunately, Tozawa's going up against "The King of the Cruiserweights", Neville, for the title and there's little to no chance in hell that he's taking it off of the champ. Neville is doing a great job in the role that he is in now and I don't see his reign ending anytime soon. When Neville does eventually lose the belt, hopefully WWE will realize that they have built something good, with his current streak, and make it mean something. There hasn't been a ton of build up to this match, though it could just be the start of a longer feud. Who knows? Maybe this will continue on throughout the next few months. I would be perfectly fine with that.
My Pick: Neville
Dean Ambrose VS. The Miz (Intercontinental Championship): Please let this be the end! I love both of these guys. I even loved this feud for a while. But, enough's enough! I can't take it anymore. Dancing Bears! Bears on Tricycles! Smashed grandfather clocks! Ambrose stealing Breezango's gimmick and going undercover as a cameraman! Dean not needing to really do anything to cause The Miz to trip over his own d!%k and upset Maryse! We've run through the whole catalog of screwball shenanigans and are just circling the drain at this point. End it!
I mean sure, Bo Dallas and Curtis Axel getting something to do as The Miz's lackeys is a good thing. I'm all for guys getting some time to try and shine. Heck, Heath Slater even got a little shot at glory this past week due to this feud. The matches that Miz and Ambrose have had recently aren't bad. They have been anywhere from ok to pretty good for the most part. It's just that nothing new is happening. It's gotten stale. I was rooting hard for Slater to win this past week, knowing full well it wasn't happening, just to mix things up a bit. Sure, this probably won't be it. This will possibly lead to yet one more match at Summerslam. Or some multi-person tag match or Fatal Four-Way or whatever. But, I hope not. Let's have Miz go on to work with some other guys and help build them up and Ambrose can move on to work a program with someone else like Balor or Rollins or, heck, even Wyatt again for a little run. Maybe a heel turn could be in store for Ambrose. Just do something different!
My Pick: The Miz
Enzo Amore VS. Big Cass: I totally saw this one coming. For the last handful of weeks, I thought it was entirely too obvious and due to that transparency this would fall flat. And then Enzo shed a tear. That was it, I, as well as a lot of people I imagine, were emotionally invested in this whole storyline, right there is that one heart-breaking moment. Sure, it's Old-School Pro-Wrestling hokey and all. Like, what kind of endgame was Cass working toward by keeping the whole charade going? I mean, if he just wanted to throw Enzo a beatdown, why not just come right out and do it? Why cover it up by pretending that he too had been attacked? I don't know and, more importantly, I don't care! Cass made Enzo cry and that made my tiny, black heart feel something. And, after all, isn't what any of us want from our preferred form of entertainment?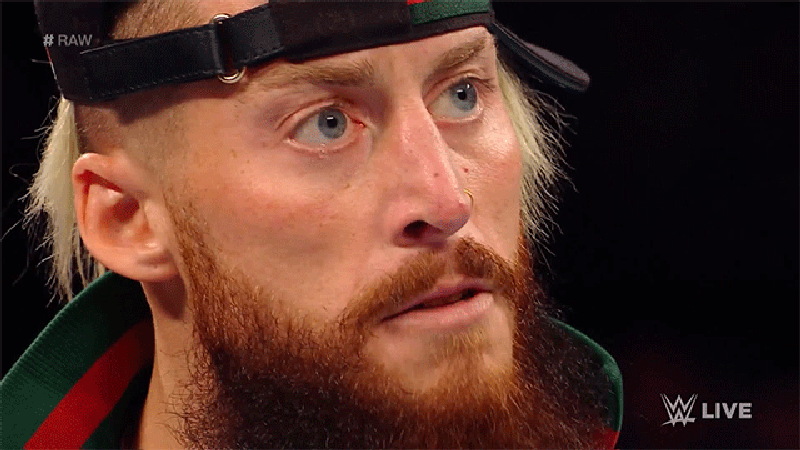 Anyway, with all that said, I'm looking at this by wondering who needs the win more. And, for me at least, Cass is gonna walk out winner. He is just starting out on the heel path and though he has a whole lot of quick heat, he needs to draw a lot more to really cement his status. So, don't be shocked if Cass really lays into Enzo, viciously brutalizing his former little buddy. Enzo could also benefit from taking the loss, as that will make him more of the sympathetic underdog and I feel like Enzo's going to need all the help he can get in the future. After this feud wraps up, I honestly don't see where Enzo's going except to maybe "Comedy Act"-status, as he isn't the greatest in the ring. Big Cass, on the other hand, I feel like the sky's the limit for him. Maybe just tighten it up a bit all around. In the ring and on the mic. The guy needs to improve somewhat now that he's on his own. Plus, hey, we can all look forward to the possible future moment where these two get back together. I'm sure that could be made into a big thing if/when it eventually happens!
My Pick: Big Cass
Seth Rollins VS. Bray Wyatt: Going from a match that I am totally invested in, to one between two guys that I like a lot, but kinda don't really care too much about this feud. In a way, I was sort of looking forward to Wyatt maybe working with Balor as was hinted during the "Superstar Shake-up" a while ago. But, instead we got Rollins now suddenly the target of Wyatt's goofball crusade to…something, something. I don't know? Anyway, hopefully this one will be a nice tight little match, that doesn't run too long. Originally, I was going to go out on a limb and say that Wyatt was going to take it, with the possibility of this simply being the first in a series of matches between these two. But, I changed my mind, thinking that Rollins has a bit of momentum right now and it might be a waste to squash that here and stall him out. Rollins deserves to head back into the Championship picture and this feud should just be sort of a holding position for him over the next month or two.
My Pick: Seth Rollins
The Hardy Boyz VS. Sheamus & Cesaro (RAW Tag Team Championships): Everybody's waiting and hoping for some real sign of the "Broken" gimmick to make its debut in WWE with the Hardys. A lot of that has been perpetuated by all sorts of rumors online, as well as a few recent cryptic tweets from Matt himself. I, for one, am a little hesitant about them going in that direction. I have all the faith in the world that WWE Creative will F' it up something fierce and would just rather not see that happen. Though, with WWE's production values, it could become something WONDERFUL! Though, I feel that the cheapness of everything was a large part of the appeal to the whole insane story. Besides, it's all tied up in a legal dispute right now. So, don't get your hopes up too much.
Until then, we will all just have to settle with a perfectly fine feud between Matt & Jeff and Sheamus & Cesaro over the Tag Titles. So far it's actually been really good and enjoyable. Though, much like the previous Ambrose/Miz feud, some of these need to wrap up before they get too stale. We're not quite at that point yet, in this case, I feel. But, we are slowly approaching that line. Summerslam is a perfectly fine place to end it. Probably with the Hardy's winning the belts back there, not here. It would also be a bigger stage to debut a certain gimmick as well?
My Pick: Sheamus & Cesaro
Sasha Banks VS. Alexa Bliss (RAW Women's Chmpionship): Another rivalry that I'm not too sold on just yet. At least we're not seeing Alexa and Bayley go at it again in what would inevitably be yet another humiliating defeat for Bayley. Not that Bayley is out of the title scene just yet. My prediction or, maybe, fantasy booking, I should say, is this: Alexa retains at Burning Testicles. Heading into Summerslam as champ. Sasha wants a rematch, possibly due to some sort of interference happening at Scorched Scrotums or on an upcoming RAW. Meanwhile, Nia and Bayley get thrown into the mix, as well, setting up a Fatal Four-Way for the Women's Title at Summerslam. In that match, either Sasha takes advantage of Bayley being injured or weakened and pins her friend for the win or Bayley does that exact same thing, except to Sasha. Sasha probably turns heel on Bayley, eventually. Or, maybe we get a real swerve and Bayley turns heel somewhere down the line? Though, that probably ain't gonna happen. Either way, Alexa's retaining here. Period.
My Pick: Alexa Bliss
Roman Reigns VS. Braun Strowman (Ambulance Match): Now here are two guys that would not show up anywhere near the top of my "Current Favorite WWE Wrestlers" list, but I am enjoying this whole storyline. It's been stretched out a bit as well, yet hasn't had endlessly repetitive matches. Instead, Braun constantly just full-tilt attacking Reigns has been quite enjoyable on a few different levels. The only thing is that, for a lot of folks it seems, Braun is the babyface here, even though he's stalking Reigns for apparently no other reason other than Braun sees him as the biggest and best competition on RAW. Personally, I think that there is clearly something much deeper going on here. I mean if Braun is looking for competition, why not go after Lesnar or Samoa Joe? Hell, even Balor or Rollins have been on hot streaks lately that would make them appear to be challengers and/or worthy competition. Yet, Strowman only has eyes for Reigns. Someone who he has clearly beaten to a near pulp a few times now. Proving himself capable of dominating the guy. So, maybe it's time to move onto some other dreamy fella to stalk and lay hands on?
Anyway, enough trying to figure this stuff out logically! Back to Wrasslin'! Everything in my gut tells me that Roman is going to win this one, because he's Roman F'n Reigns. But, I'm ignoring my gut and going with Strowman. We already know where Reigns is headed next. He already called dibs at Summerslam on whosoever walks out with the Universal Championship, because Reigns has reached Cena-Level clearance within the company. That ability to just waltz on in and declare himself number one contender, even though he lost a number one contender match a month ago. So, if Braun wins, then maybe things will get a little shake-up and Braun could get thrown into that mix. Which might be interesting. Or, Reigns wins only to have Braun interfere next month during his title shot.
My Pick: Braun Strowman
Samoa Joe VS. Brock Lesnar (Universal Championship): So, here I go again: My gut is telling me that there's no way that Lesnar is dropping the title before Wrestlemania. I just don't see it! I guess there could be a slim chance, since there is plenty of time to get it back before then. Like say at the Rumble or something. And, this is after all a middle ground PPV and not one of the Big Four, which is where you would expect Lesnar to more likely lose his title at. But, I really want to see Joe win! So, I am ignoring my gut again. I was blown away a month ago when Joe won the 5-Way match, making him number one contender. I have enjoyed every little moment building this match up on the subsequent RAW's. Heyman always does a great job hyping nearly anything, but combine that with the stuff that Joe did as well. Throwing Heyman into the Coquina Clutch was awesome. I especially enjoyed Joe quietly describing what he was going to do to Paul, moments before doing it. Also, Joe catching Lesnar off-guard the other week in the Coquina and Lesnar doing what he honestly does best: Making ridiculous faces. I mean what else does he get paid for? Surely, you don't pay someone millions for only a few minutes of actual work annually? Right?
It would be just so satisfying, as a fan, to have Joe take the title off of Lesnar. Especially in a straight up and down, gimmick free, one-on-one match. Unfortunately, this is WWE. And, if I have learned anything in the decades that I have been a fan, WWE has taught me that… IT DOESN'T MATTER what you may want. You'll take what they give you and plop down your $9.99 next month like the good little mark that you really are. So, my pick is purely emotion-based this time around and I stand by it.
My Pick: Samoa Joe
Well, that is that! A nice little card with a couple of potential highlights. I feel the need to point out that this just another card missing Finn Balor on it, which is kinda weird. Though I wouldn't be shocked if there is some sort of interaction between Finn and Elias Samson at some point. Can't wait for that future highlight of Balor's career where these two finally go at it. Ugh! Also absent are Gallows & Anderson. Which isn't really a shock either, as those two are in the old "Sure We Offered You Guys a Tidy Sum of Cash to Leave a Company That Actually Utilized You, So You Can Barely Get Any Exposure on Our Programming, Seemingly For The Hell of It"-limbo. Ohh, did that sound angry? Too bad. Anyway I'll be back after the show to give you my musings on the outcome of all of the matches and random goings-on. And (I know I've said this a lot lately, but this time I mean it, baby) hopefully I'll be taking this blog weekly next week. That is if everything lines up just right! Fingers crossed.
Until then, you can always reach out to me and worship by sending me all of your praise to curt@nerdnationradio.com
But, if you feel the need to just be plain nasty and/or hurtful, go ahead and do it at jack@nerdnationradio.com